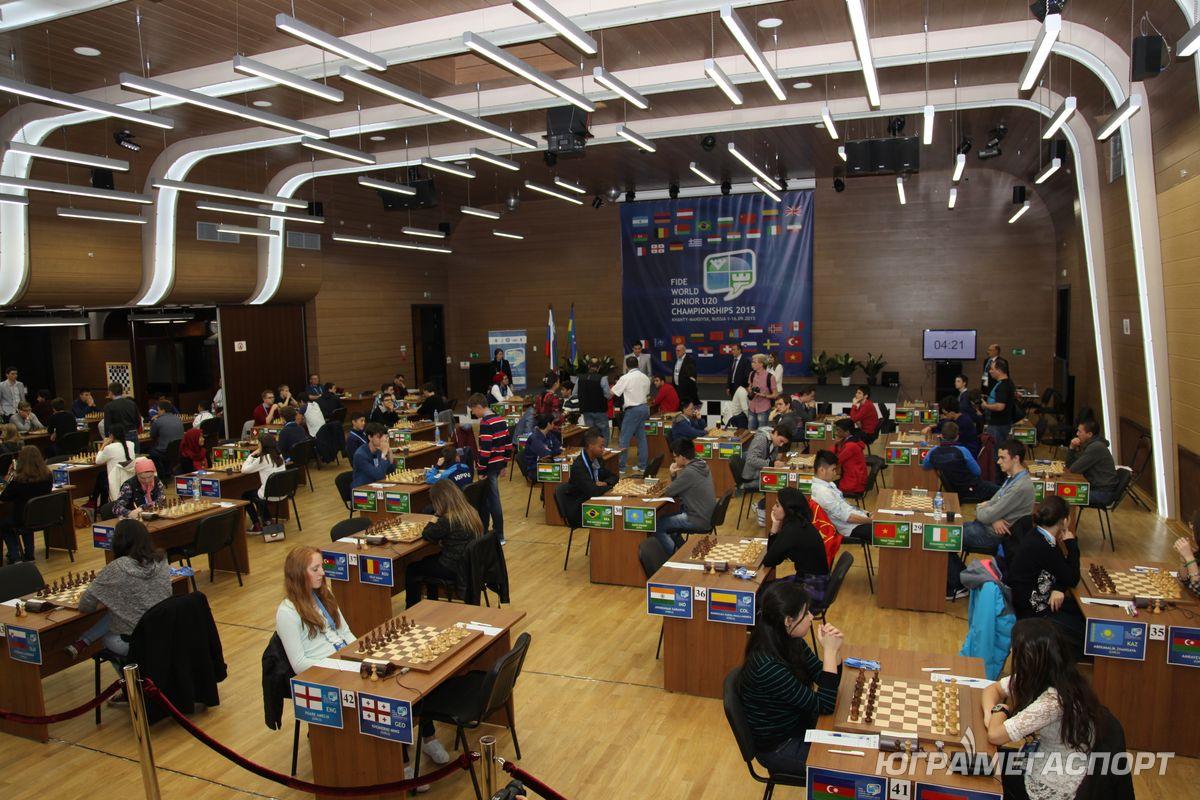 Review of the first round of any major championships usually begins with phrases such as "favourites confirmed their reputation, though not without surprises." But the world Junior Championships is not the usual "Swiss", and the show of young talents from all over the world. Talents, as you knows, are developing as not systemically: someone who can show themselves and in 14-15 years, some closer to 20; the increase in rating in the Junior men's 100 points for the year are common. Therefore, the tenacious struggle in Khanty-Mansiysk from the first round began on almost tables. Suffice it to say that in the championship, the top chesschessmasters Aulia Medina Warda (Indonesia) and Dinara Sadvakasova (Kazakhstan)  in girls section lost to the Russian chessmasters Karina Ivanova and the Peruvian Paula Paredes Bustamante. In the open section GM Cori Jorge (Peru, Elo 2637) lost to the Brazilian Vitor Carneiro (2405), and lost the case: got worse on debut and failed to defend an inferior position. Elo-favorite Jan-Krzysztof Duda (Poland) also faced difficulties who was White with Micractinium Iskandarova. Azerbaijani Junior has developed a dangerous attack on the King, but hesitated, and Polish grandmaster, repulsed the assault, started a counterattack.
Aleksandra Goryachkina, the double world champion among juniors, the champion of Russia among women, as we previously reported, acts in this year's championship in opened section. In the first round she defeated «black» Serikbay Chingiz of Kazakhstan. Defeated in his style: methodically played over opponents in a slightly better ending, slowly improving their figures. Among Russian players also scored Mikhail Antipov, Dmitry Gordievsky, Daniel Uffa and Vasily Korchmar, and in the girls tournament, in addition to Ivanova, Irina Dragovoz won and very young (born in 2004!) Lea Garifullina.
White has the extra quality, but the pieces scattered around the board and poorly coordinated, and the King is weak. Daniel with short moves like throws a net for catching butterflies on opponent's pieces.
48…Nf4! 49.Rf3 
Knight invulnerable: 49.Qxf4 e2+.
49…g5! 50.Qg3 
A pawn can't be taken too: 50.Qxg5 e2+ 51.Kf2 Nh3+!, and again after that uncovered the check  White loses his Queen.
50…Qc4+ 
White resigned, as with the Queen they still have to part (51.Kg1 Ne2+).
Drogovoz – A. Thomas
I want to use a bunch of Knight f6, but on an immediate 27.g4 should be at least 27…Qb1+ 28.Kg2 Qe4+. So White bring the Knight closer to the center and at the same time invite the opponent to "enjoy" the pawn.
27.Nc3 Qxb3? 
Gotcha the bait.
28.g4! 
And it turns out that from a "rough" the threat of g4-g5 Black has no protection. After 28…Qe6 29.g5 Qg4+ 30.Kf2 Qh4+ 31.Kf1 Qh3+ 32.Ke1 Qe6+ 33.Kd2 White has taken the King from under the checks and have implemented extra piece.
Grigoryan, G. Leyva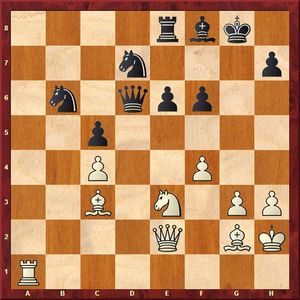 Black have inadvertently weakened their King and came under devastating attack.
27.Nf5! Qb8 
The Knight can't be taken: 27…exf5 28.Qxe8. Black defended the Rook, but White and not think to take his Knight, and increasing pressure on the e line.
28.Re1 Nc8 29.Bd5! 
White as if do not pay attention to the e6 pawn!
29…Kh8 30.Qh5 Nd6 31.Bxe6  Black resigned.
Van Laeken – N. The Studer briefly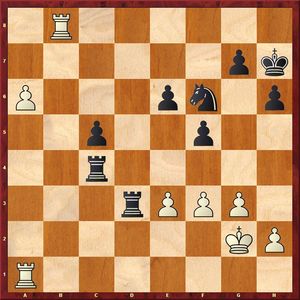 White sacrificed a piece, but their formidable gate, it seems, is about to become Queen. However, very weak White King…
33…Rd2+ 34.Kg1 
34.Kh3 should be a spectacular 34…Ng4!, and the White King "in the box" 35.Rh1 (35. fxg4 fxg4+ 36.Kh4 Rxh2#) 35…Nf2+ 36.Kg2 Ne4+ 37.Kh3 Ng5#.
34…Rcc2 35.a7 Nd5 36.Re1 
Or 36.a8Q Rg2+ 37.Kh1 Rxh2+ 38.Kg1 Rcg2+ 39.Kf1 Nxe3+ 40.Ke1 Re2#, for 36.Rh8+
(to place the Queen with check) Black simply ignore the offering: 36…Kg6.
36…Nxe3! 37.Rh8+ 
To take the Knight because of the linear mate, so White try one last chance
37…Kg6 Rejecting "Danae gift." White resigned.
Rambaldi – M. Ratkovic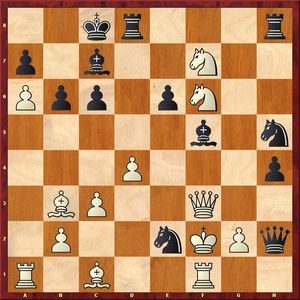 The Italian Francesco Rambaldi called at home "new Records". As it is called in Serbia of Cute Ratkovich, unknown to us, but in this party has met his match.
27.Nxh5 
In this crazy position led to victory 27.Qxc6! Nxf6 (or 27…Qg3+ 28.Kxe2 Nxf6 29.Rxf5 exf5 30.Be6+ Rd7 31.Qb7#) 28.Qb7+ Kd7 29.Ne5+ Ke8 30.Ba4+ Kf8 31.Qxc7.
27…Rdg8 28.Qxc6
And on the course later this capture is no longer appropriate! Won 28.Nxh8 h3 29.Qxc6 Rxg2+ 30.Ke3!, and the King running away through the "minefield"  from the enemy.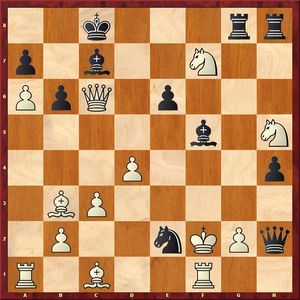 28…Rxg2+! 29.Ke1 
Bad 29.Qxg2 in view of 29…Bg3+ 30.Kf3 Be4+ 31.Kxe4 Qxg2+, and Black wins the Queen
29…Nxc1 30.Qb7+ Kd7 31.Ne5+ Qxe5+ 
But not 31…Kd8 32.Nc6+. Now large-scale battle ends in a perpetual check.
32.dxe5 Nd3+ 33.Kd1 Nxb2+ 34.Ke1 Nd3+ 35.Kd1 Nb2+ 36.Ke1
He cant leave from annoying Knight: 36.Kc1 Nd3+ 37.Kb1?? Rb2#.
36…Nd3+ 37.Kd1 Nb2+ Draw.